Turkana County Nutrition Coordinator, Cynthia Lokidor, has hailed the use of new innovations in combating malnutrition in the County.
Lokidor singled out the Mid-Upper Arm Circumference (MUAC) tape innovation, saying it will help reduce acute malnutrition thereby reducing maternal and infant mortality rates in the County.
"Persistence of acute malnutrition as a leading cause of mortality among under-fives, pregnant and lactating mothers will be reversed in Turkana if all households embrace the use of Family MUAC innovation," said Lokidor.
MUAC tapes are predominately used to measure the upper arm circumference of children but also that of pregnant women, helping to identify malnutrition. All are graduated in millimeters and some are colour coded (red, yellow and green) to indicate the nutritional status of a child or adult.
MUAC less than 110mm (11.0cm), RED COLOUR, indicates Severe Acute Malnutrition (SAM). The child should be immediately referred for treatment.
MUAC of between 110mm (11.0cm) and 125mm (12.5cm), RED COLOUR (3-colour Tape) or ORANGE COLOUR (4-colour Tape), indicates Moderate Acute Malnutrition (MAM). The child should be immediately referred for supplementation.
MUAC of between 125mm (12.5cm) and 135mm (13.5cm), YELLOW COLOUR, indicates that the child is at risk for acute malnutrition and should be counselled and followed-up for Growth Promotion and Monitoring (GPM).
MUAC over 135mm (13.5cm), GREEN COLOUR, indicates that the child is well nourished.
Comparative studies have shown that MUAC is subject to fewer errors than Weight-for-Height.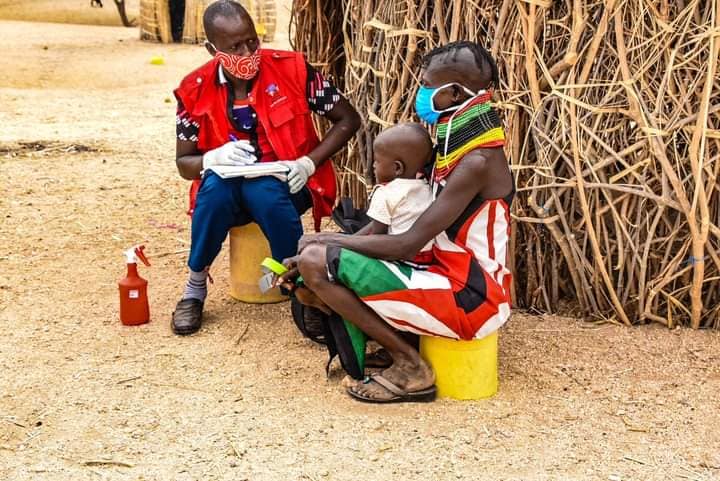 The innovation which primarily targets to make use of mothers as first line of health care provision in the detection of malnutrition at the household level through the use of special colour coded tapes (Family MUAC) has had tremendous success in Loima Sub-county where it's use was integrated in case identification and management programs.
The initiative is spearheaded by the County's Ministry of Health with support from Health and Nutrition partners.
Lokidor said the Sub-county has been reporting a lesser number of relapse cases as compared to other Sub-counties where the innovation was not in use.
She attributed the positive trend to the device at household and community levels by mothers and Community health volunteers.
While calling upon partners to take cue from the recently launched County Nutrition Action Plan and act towards eliminating the perennial problem, Lokidor said that scaling the use of the Mother /Family led MUAC tape to all units in the County is necessary.
Lokidor expressed optimism that the innovation was likely to achieve massive community acceptance throughout the county as was the case with Loima for leveraging on household members (especially mothers) and the local CHVs in tracking the nutritional status of the child on a weekly basis and initiating the necessary intervention where applicable.
Agnes Ekai from Naitangomo village, Napeikar location in Loima Sub-county, says that she is a living witness of the effectiveness of the tape given that her three children have never relapsed to the intense levels of malnutrition since she started using it.
 By Peter Gitonga